http://www.witoldrybczynski.com/blog/
I recently heard from owner-builder Marvin McConoughey of Corvalis, Oregon, who with his wife built their own house in the 1980s. I was impressed by their ambition (the house is about 2,500 sf), and by their dedication (it took six years). My wife and I spent three years building our own house—which I thought was seriously pushing the limits of both our sanity and our conjugal well-being.
Oh, and the McConoughey house is circular in plan! What is it about round houses that fascinates people? Inigo Jones designed several octagonal houses (although as far as we know he did not build any) and Jefferson built a famous octagonal house at Poplar Forest. McKim Mead & White designed a shingled round house in Jamestown, R.I. One version of Bucky Fuller's Dymaxion House was hexagonal, another was circular, as were the D-I-Y yurts and dome houses of the 1960s. Today, circular houses are making a small comeback.
The power of the circle is apparent in a perfectly round space, as architects since Palladio have known. The best round buildings—the Pantheon, the British Museum Reading Room, the Guggenheim Museum—contain such spaces. The challenge of designing a circular house is that once the circle is subdivided into rooms it loses its special quality, and one ends up with awkward spaces that are either pie-shaped or segments of a circle. Wright understood that, which is why he never tried to squeeze a house into a circle, although he used circular shapes (see the Sol Friedman house, two intersecting circles, one subdivided, the other open).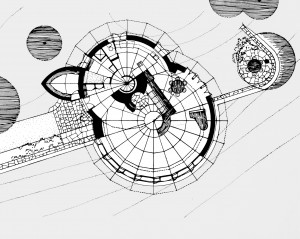 Friedman House, Pleasantville, NY (1948)
In 1967, I, too, had a go. Fresh out of school I designed a circular (20-foot diameter) summer cottage for my parents in Vermont. The solution was prompted by a nearby silo; I planned to use similar curved concrete silo blocks to build the walls. In fact, the two-storey house resembled a silo—or a lighthouse. The lower floor contained the dining area, kitchen, and bathroom, and the upper floor was one big room, with 360-degree views. I never quite figured out the roof—flat or peaked? By then I had realized that since my mother had had polio as a child, a house with a stair was a big mistake. Reluctantly I gave up on the silo and designed a house on one level. It had the shape of a sensible shoebox, and served my parents well for many years.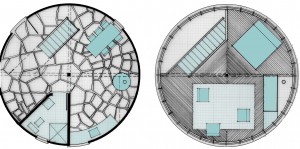 Ground Floor ……………………..First Floor