http://www.itopen.it/2013/03/18/driving-a-pair-of-7-segments-display-with-msp430-energia-libraries/
2013-03-18 — Category: Arduino , MSP430 MCU , Programmazione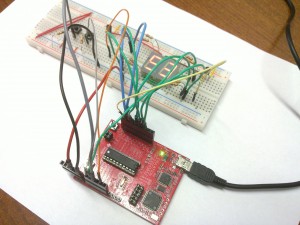 This is my second experiment with Energia LaunchPad boards. This time I wanted to see how difficult could be to adapt for the LaunchPad a program which I originally developed for Arduino.
If are interested in how I did setup my Linux box for working with the LaunchPad and the Energia libraries, I've described the whole process in this post.
It turned out to be quite easy and the program needed only a few pin configuration changes.
Here is a link to the breadboard schema:
http://www.softwareliberopinerolo.org/images/arduino/D14-N_3_Display_7seg_.jpg
The code: